This is a mod for
Medal of Honor: Allied Assault Breakthrough servers
that have set Axis to use a shotgun instead of the gewehrgranate (rifle grenade) via the dmflags setting. This mod changes the picture and selection text of the Gewehrgranate in the weapon selection menu to show a picture of a Shotgun and display "SHOTGUN" text when the default Gewehrgranate area is highlighted.
I made this mod because it annoyed me that even if you have the dmflags set to make axis use the shotgun you still saw the gewehrgranate in the menu.
// DF_GERMAN_SHOTGUN MENU BEFORE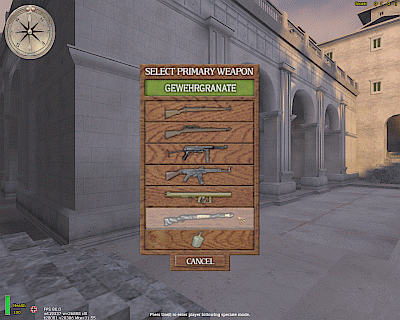 // DF_GERMAN_SHOTGUN MENU AFTER
// DF_GERMAN_SHOTGUN ON
// HOW TO MAKE AXIS USE A SHOTGUN INSTEAD OF THE GEWEHRGRANATE.
DF_GERMAN_SHOTGUN = 1048576 therefore add 1048576 to your current dmflags setting to make axis use a shotgun instead of the gewehrgranate.

For setting up Breakthrough servers I recommend MOHAA Breakthrough Runner v1.0.9, by Apextwin - link -
// MOD INSTALLATION.
Add User-df_german_shotgun_menu_mod.pk3 to your maintt folder.
default location is C:\Program Files\EA GAMES\MOHAA\maintt
:
-If you use this mod and you don't set dmflags so axis have the shotgun you will still have the shotgun in the menu. This mod is only useful if the server always runs shotgun_on for axis.
-This menu mod will only work if the server you are playing on has it installed (unless the server in non-pure).
// Download DF_GERMAN_SHOTGUN menu mod -
link
- 480KB